Johnston and Jeff – From Plastic to Paper

Having noticed that a local company, Johnston & Jeff, were predominantly using plastic packaging, East Riding Sacks contacted them to see if they had considered a plastic free alternative. This was something they were already investigating as, increasingly, they were being asked by their customers for a plastic free, recyclable packaging solution. It was clear that Johnston & Jeff have a goal mind when it comes to sustainability.  As a company who manufactures bird food, not only do they provide a great product, but they also care for the environment in which the birds live. They agreed to work with us to explore a paper sack that would suit their requirements.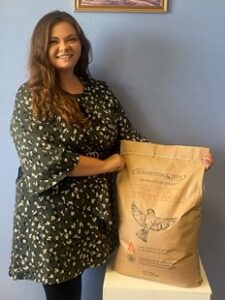 Johnston & Jeff's Marketing & Media Manager, Maddy Johnston with their new paper sack.
East Riding Sacks produced two types of paper sack for Johnston & Jeff to trial and provided support through all stages of development, from conception to design. The in-house design studio assisted Johnston & Jeff through the artwork approval process until the final artwork was approved.
Once the orders were received, their new sacks went into production. Johnston & Jeff were kept fully informed with the lead times and production process.
After successfully transitioning part of their range from plastic to paper, Johnston & Jeff continue to work with East Riding Sacks to further expand their portfolio of paper sacks and take one step closer to achieving plastic free products.
East Riding Sacks is committed to reducing the environmental, economic, social and ethical impact of our procurement activities.  All of our sack kraft paper is purchased from paper mills that source their raw materials from well managed and sustainable forests, where growth is larger than harvesting.
We understand that companies are increasingly looking to switch to a more sustainable and environmentally friendly packaging solution. Almost all of the paper we use is suitable for recycling, which typically decomposes in a fraction of the time plastic does and will not have any lasting impact on the environment.  We are now working closely with companies to reduce or eliminate plastic usage from their packaging.
If you would like us to help your company move from plastic to paper, please get in touch!